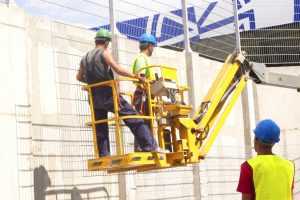 Scaffolds are integral pieces of equipment in many industries, enabling workers to conduct at-height jobs efficiently. Employers should prioritize the safety of the people working at great heights. This means ensuring that the system used for working is in great condition, enforcing safety policies, and implementing restrictions on the use of the devices.
General before-use scaffold safety requirements
Before setting up a scaffolding system, you should ensure that it can support not only its weight but also, at the very least, four times the maximum intended load (including the people who will work on it and other equipment it will carry), an expert from Scaffoldmart.com explains.
Only qualified people should construct, set up, and load the scaffold. They should also make certain the entire system complies with all the Occupational Safety and Health Administration (OSHA) standards. The same goes true for moving and disassembling the system.
Proper usage requirements
Employers should not permit workers to use snow- or ice-covered scaffolds, as well as those that have slippery materials on the systems' elevated platforms.
When using mobile systems, make sure that they come equipped with high-quality scaffolding casters. These will not only make moving easier; their locking features also help keep the system stable and in place; thus, keeping scaffolders safe while they conduct at height tasks.
Maintenance requirements
Reputable scaffold manufacturers design their products with durability, strength, safety, and longevity as their primary priorities. However, as an owner of these systems, you still need to do your part in taking care of and maintaining them properly. Have an extensively trained and qualified person inspect the system for defects and damages, before and after its use. Prohibit the use of scaffolds with any weakened and damaged component until you have them replaced or repaired.
As long as you and your scaffold builders/scaffolders meet these requirements, you can prevent disastrous consequences such as falls and collapses that can result not only in injuries but even fatalities.