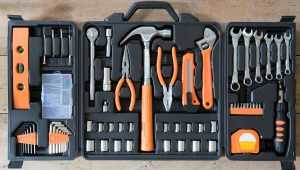 Whether you DIY or just really want to be prepared, a toolbox is an important item to have in any household.
But First!
Research and think quality above all else. Get tools that are durable and can last a lifetime. These will be expensive, but it will be worth it when you know you can rely on what you have.
There's No Need to Rush
Build your toolbox slowly; there's no need to break the bank. Know what you want and what you need, but talk to the guys at the hardware store too. They can give you helpful suggestions based on your intended use.
Are You Ready?
These are the items that see the most use in many homes:
A utility knife and a few spare blades. Make sure it has a comfortable grip.
A claw hammer that has good balance. Try different ones out and see how they feel in your hand.
Flathead and Phillips screwdrivers. Get both in varying sizes; two to three different-sized screwdrivers should do. Substitutes also work.
Tape measure and level. This duo will help you hang up frames like a pro.
A crosscut saw is great for most purposes, even in the garden.
Ready for More?
For a wider range of easy-to-do repairs, you could add:
Pliers: a vise grip and a needle nose should suffice.
Wire cutters
A crescent wrench or a ratchet for all those nuts and bolts.
Cordless drill and drill bits.
A stud finder and an electric circuit tester. These are particularly useful if you bought an old home.
Expand your range as the need arises. You can even go ahead and make space in your garage for the whole gamut of tools and a workman's bench. Just remember: don't spend for more than what you really need!