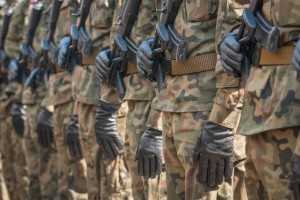 Army veterans are often praised. After all, they're mostly the main reason ordinary people can afford to sleep soundly at night. The sacrifices of brave servicemen and women are nothing short of noble, and should be held in high regard by everyone.
A number of hiring managers don't seem to be on the same boat, though.
Among the multitude of people and societal sectors, First Lady Michelle Obama is one of the most active proponents of the push for veteran employment. Her efforts have mainly been backed by the U.S. Chamber of Commerce through the latter's Hiring Our Heroes initiative, as well as specific private companies like J.P. Morgan Chase.
But still, even recent wide-scale efforts seem to be in vain. A report from the University of Southern California, in cooperation with Volunteers of America, presents a valid point. In it, it was claimed that some of the training that serves soldiers well in battle works against them in their job search. In addition, the report calls for "civilian basic training" as soon as troops begin the transition out of the armed forces.
Fortunately, legislators have presented a solution. By virtue of two G.I. bills (the Post 9/11 and Montgomery G.I. bills), veterans can aptly seek varying training and employment opportunities from companies such as Smith & Solomon Training Solutions. And one such opening is present in the commercial trucking industry. Under the two bills, veterans looking to enter the civilian workforce are entitled to different training and assistance benefits. These include things like entrepreneurship training, flight training, vocational or technical training, and even undergraduate and graduate degrees.
Still, there lies the question: Why be a commercial driver? The answer is quite easy. First, the job pays quite well. On average, you can expect to earn as much as $47,000 a year, with figures easily going into the $60k and up range. Second, drivers are in-demand because of an aging workforce; it is expected that the industry will experience a 20 percent growth through 2020. Federal regulations have also contributed into the ever-growing demand.
The existence of adequate legislation and handy assistance benefits make applying for a commercial driver job a must-try for veterans. There's really nothing more to ask for — the pay is good, the job is in-demand, and the government sector is actively helping out those in need. With such opportunities, a smoother transition to civilian life is not far behind.