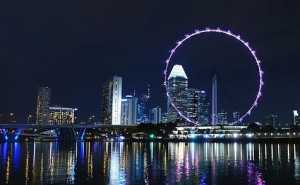 Singapore is a small country, but it has its fair share of romantic spots for couples. Known for its avant-garde architecture and advanced living standards, the Lion City is home to beautiful locations for couples to celebrate their love—you just need to know where to go.
Here is a quick roundup of great Singapore attractions you should not miss to celebrate love on your next trip:
Sentosa
Sentosa is famous for exciting rides at Universal Studio and the beaches of Siloso and Palawan, but it is also home to various dating spots where you can share special moments with your date. In SeaWorld, for example, you can discover the diverse aquatic life and marvel at the different coral structures. You can also watch unique night shows after taking pictures with the huge Merlion statue.
Singapore Flyer
The Singapore Flyer is always an excellent choice, and it is perfect as the sun begins to set and day turns into night. You can reserve a pod and have a romantic dinner with your date. You can share intimate secrets and simply enjoy each other's company with panoramic views of the city. It is almost a guarantee that you will never see Singapore the same way again.
Henderson Waves
Being close to nature is a sure-fire way to enjoy the company of your date. Take a stroll along Henderson Waves and be amazed as at the city lights. You can also stargaze or just immerse yourself in the green patch of heaven in the city.
Boat Cruise
You do not have go to Venice if you are dreaming of a romantic boat ride with your special love. Hop on a boat and cruise down the Singapore River. See the historical landmarks along the riverside as you make wonderful memories with your date.
It is not that hard to find a special place in Singapore for a romantic date. After all, just being with your special someone can make the place extra bright and wonderful.