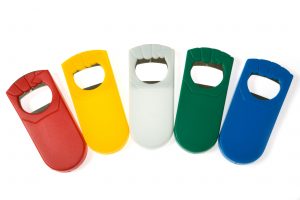 Many companies overlook the value of polishing and customising their strategies to suit their target market. They fail to realise that people don't just buy goods. Customers often need a nudge in the right direction to help them make up their minds.
With the right marketing strategy, you can get them to do just that. Gifting your prospects and clients with creative promotional goods will gently remind them of your brand. Since you're always at the back of their minds, you will be the first company they call when they need your services.
Make Them Useful
It would amount to failure on your part if you were to create a promotional item that would end up locked in a dark closet. The value of such things depends on having the recipient keeping them in plain view or using them. Branded key holders, mugs, apparels, and caps have a practical use in the lives of your target market.
It doesn't matter how they use them. If a prospect turns your branded T-shirt into sleeping attire, that can also work in your favour, as it becomes part of their daily routine. Of course, other items such as branded coffee mugs do their job with a bit of flair.
Make Them Durable
Going cheap is not an option when creating promotional items. Doing so will put your brand image in question. If one of your cheap pens were to run all over a perspective's best outfit, they might take their business elsewhere.
Cheap items are hardly durable, which lowers the amount of time that people are exposed to your brand. They're also likely to mar your company's reputation. You certainly don't want anyone to refer to your firm as a company with cheap pens that ruin expensive clothing.
Great marketing is the hallmark of a successful company, and it helps cultivate a solid brand reputation. With the proper use of quality promotional items, you can join the ranks of successful brands.