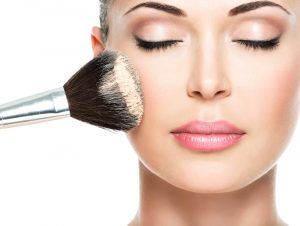 The difference between a woman who looks plastic in makeup and one who looks modest is that the latter has done her homework. Although there are different reasons women apply makeup, one universal reason is that makeup is meant to enhance beauty while still helping you retain your natural look. 
For makeup to serve this purpose, there are 4 things you need to know.
1. You must pick the right colour of foundation.
Unless you're acting the role of a vampire in a horror movie, there shouldn't be any demarcation between your face and the rest of your body.
When shopping for foundation, use a tester and apply a small amount on your jaw line, look keenly in the mirror to see if the tone matches the skin tone on your neck, if it doesn't, keep testing!
2. Your eyebrows matter
If you love perusing through beauty magazines, you've probably noticed the many different eyebrow shaping techniques. Well-shaped eyebrows frame your eyes and add symmetry to your face.
Professionals who do eyebrow shaping are guided by the shape of your face to help you achieve the best look.
3. Moisturiser is a must-apply!
To prevent your skin from dryness and flaking, ensure you apply moisturiser before you apply the foundation
Using moisturiser makes your skin look smoother and helps the makeup last longer.
4. Water and skin
Your skin's health depends on your water intake.
A study by the University of Missouri revealed that taking 500mm of daily water intake increased blood flow to the skin. Furthermore, doctors recommend that one should take at least 2 litres of water daily.
Inadequate water intake has detrimental effects on your skin; the skin appears duller, wrinkles fast and makes the pores more prominent.
While these are universal pointers in regards to makeup, you should also do your homework to know the best brands that work for your skin. Sometimes, seeking the services of a professional to guide you on what works best for your face may be all that you need.