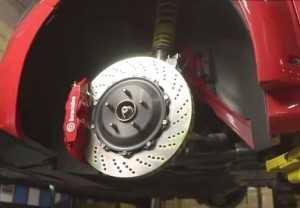 Maintaining the brake discs and brake pads of your Brembo braking system to ensure optimum braking performance and your safety at all times. Every time your car brakes, it generates friction that causes gradual deterioration of your brake discs and pads.
To ensure the integrity of your braking system, replace your brake discs and pads with new Brembo brake kits when they reach a specific wear level.
When Replacement is Necessary
In general, you can see the minimum allowable thickness for the braking band on the discs, but the pads, on the other hand, have wear indicators. Allstartire.com recommends that you inspect your brakes at least every 15,000 to 20,000 kilometers; however, have a professional check it if you feel sudden vibrations.
Here are other warning signs that may indicate you need to have your brake discs or pads replaced:
A noise when braking
If the warning light turns on (if you have one, for the pads only)
Sudden vibrations
Overheating symptoms
Noticeable radial cracks or pronounced circular lines on the brake band
Your brake fluid can likewise offer an indication of your brake pads and discs' deterioration rate. Sometimes, when your discs and pads wear out, the brake caliper's small piston will be pressured to further offset the pad or disc's loss of thickness. This will consequently absorb significantly more brake fluid, causing the dashboard warning light to light up.
The Importance of the "Running-In" Period
Because the brake pads and discs are the core of your braking system, their efficiency will reflect on the braking performance and safety of your car. Every time you replace your pads and discs, a short "running-in" period — lasting around 300 kilometers — is necessary the moment you install your Brembo kit.
During this time, you must make soft and brief braking motions to enable accurate alignment between where the brake pads and brake discs make contact. Note that foregoing this running-in period may result in the braking components prematurely deteriorating and compromising the integrity of your braking system's overall performance.
Braking is one of the cornerstones of safe and efficient driving. Replace your brake kits, and invest in a high-quality system to prolong your vehicle's lifespan.