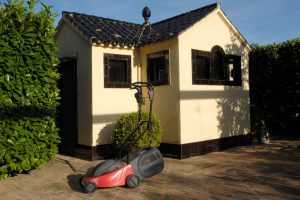 Garden sheds have been generating more interest of late, especially now that there are countless inspirations from Pinterest and similar sites if you'd like to splash some new paint on there. In many instances, a shed isn't limited to its traditional function; it becomes an all-around storage area for different items for different purposes.
Traditional Shed
As it derives its name from its original function, a traditional shed contains any number of implements used for tending to your garden. A few spades and hoes, a shovel, a wheelbarrow, a hose, a leaf blower, a lawnmower, rakes, and a sack or two of fertilizer populate a traditional shed. A homeowner usually cannot avoid keeping items they don't use often or at all. The shed has the added responsibility of housing items such as magazines, toys, and other old belongings. If the shed is big enough, it may also be a temporary garage for a bicycle or motorcycle.
Other Functions
Sheds usually accommodate other functions, especially if you have the time and resources to spruce it up a little. For example, you may use half the space for gardening tools and materials, and the other half for storing other tools for automotive or electrical work.
As long as there's no excess moisture in the shed, there's no reason you shouldn't store your electrical testing tools or sets of screwdrivers and wrenches. Other homeowners may even set up a particularly large shed to accommodate a small desk for a laptop.
Organizing Your Shed
A shed is a joy to use when it is organized. Use the walls and even the space behind the doors for additional storage. Racks or hooks are especially important for this. Consider using magnets as well, for small items like trowels and seed cans.
Use the floor for large items like a lawnmower. Make sure no other items are located below where you hang your hose. You don't want it dripping all over them. Safely put stackable plastic boxes on top of each other. Mark them properly so you know exactly what they contain even if they are not transparent plastic.
A regular garden shed can have several functions. You just need some creativity and a means to apply whatever it is you want.