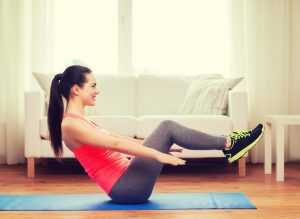 Whoever said health is wealth, probably knows it really is. Just scroll through your Instagram feed and you'll see ladies and gents flaunting their chiseled abs. Bikini pictures are clad with #fitspiration comments, and salads never looked so good (flat lay game strong). Social media has turned some ordinary users into fitness superstars like Kayla Itsines. The before and after pictures are so encouraging, everyone wants to take a plunge into the fitness world.
No excuses 
To achieve this body or at least be in the right BMI range, it takes a lot of work. You did not gain that unwanted pounds overnight, so you're not going to lose it in one workout. It would take a whole village of effort to transform your body and making time for it is a discipline that you need to practice. Most people would agree that one of the things that keep them from getting the body they've always wanted is lthe ack of time.
Squat at home
If time is getting in the way of building your dream body, you do something about it. Before picking up that doughnut, you might want to consider exercising at home. Working out at the comfort of your own place has a lot of benefits. It eliminates your excuses of not working out, thus teaching discipline along the way. To get you started, you need to consider the following:
Type of workout. There are many home workouts to choose from, Pinterest is a good jump off point to getting those muscles working. You also get to choose how much time you will devote to working out and what time of the day you get to move. In choosing your workout, choose the set that you think you will enjoy. Working out can be hell, so choose your kind of hell.
Equipment. Many people would argue that getting a gym membership is practical than building your home gym. But you may want to consider that gym memberships have annual or monthly fees, which may dent your pocket in the long run. To start, you have to identify the gym equipment that you need. You don't have to start big; a couple of varying weights is a good starting point in building your home gym.
John Mayer is sincere when he said that your body is a wonderland. In order to build something strong and beautiful, you need to devote time and effort. Just like Rome, your wonder body isn't built in a day, but if you can start today, the better. You do not need to leave the comfort of your home, just shove that coffee table away and bring out your gym equipment, and then you're good to go.