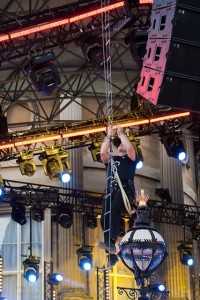 The most dangerous jobs in the world are those which involve big machines. That is why people who work in these environments should have the best safety training possible to reduce the risks of accidents. Whether it is to lift heavy machinery and packages of machine parts or transporting manufactured goods, rigging  is a highly important aspect in the operations of different heavy industrial and enterprise sites.
 Hazards of Rigging
While the availability of safety trainings should come as happy news for the riggers, the job still brings with it some potential hazards that could even be life-threatening. According to consolidatedriggingandlifting.com, some hazards that the riggers face at their workplaces are:
Improper leveling of the surface they are to work upon
Doing rigging jobs in crowded areas
Rigging under loads
Rigging using poor quality power lines
Rigging using faulty power equipments
But, these hazards can be avoided if the riggers are given proper training. This will not only make the workplace safer for them, but it will also boost productivity for the company.
 What Riggers Must Know
The objective of rigging trainings is to provide riggers with a thorough knowledge of the industry, so they may conduct the operation in a safe manner. Some aspects of rigging that they should know include the following:
The risks involved
How they must manage these risks
What the correct methods of rigging are
How to best handle the rigging equipment
How to inspect their equipment for damage and problems
 Specific Knowledge Riggers Must Have
The above mentioned points are the general things about rigging that all riggers must know to make their work environment safe. Apart from these, these workmen must also have some specific knowledge about the job. Their team leaders will provide this information on a daily basis, such as:
How much load they must carry
What the load resembles to know how to properly shift the load
The restrictions of the rigging equipment
Finally, one danger any rigging inspection should fix immediately are power lines. Faulty power equipment needs to be outside the working area, replace or recover any energy cabling already showing signs of deterioration.